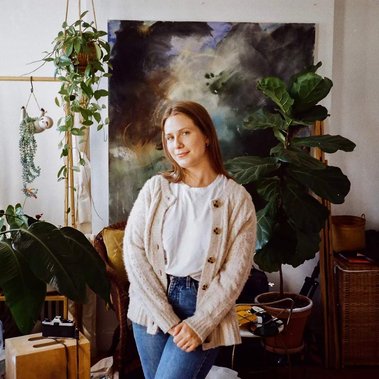 Jenny Woods. I don't think; I feel.

Photographer / Painter
Queens, NY
Year after year, no matter how much everything changes, I always come back to photography. I've never felt anything as amazing as I do when my eyes are wide and my finger is lingering over the shutter. I'm inspired by people, humanity, the quiet moments that pass most of us by. The energy you feel from the subway musician pouring his heart out for strangers. That familiar hunger in the street cat's eyes. Colorful laundry pinned between buildings, kissing the wind; a kind of freeness we all long for. The invigorating sound of a group of kids running by at full force, their laughter echoing; and their presence lingering in the air long after they've disappeared. Making eye contact with people you'll never see again. A quick connection where you feel as if you're the only two people left on earth and somehow that's okay. Photography is a time capsule and I want to bottle life up.
Exhibitions / Awards
2018 London Exhibition of 15 female artists, "We See You, We Hear You"
2018 NYC Beyond Studios One Year Anniversary Group Show
2018 Circle Foundation's Artist of the Year Award (2nd Place)
2017 Group Exhibition "Unfold" in London
2015 Group Exhibition at Parasol Projects, New York
2013 Solo Show at Dolly Hand Cultural Art Center, FL
Contact
Email: jlwportraits@gmail.com
Available to shoot portraits, couples, families, and weddings/events.
If you're interested in booking me, please fill out this form and I'll get back to you within 24 hrs.
Prints are available on my store. If you're interested
in owning a specific print, please email me.
Subscribe to my newsletter Sign up to receive updates on print and painting sales.